Pusher Centrifuge For Chemical Industry
ZHONGYI

Hunan, China

within 30 days against the payment in advance

20 Set/Sets per Month
Pusher Centrifuge is full automatic and continous filtering centrifuge used for solid-liquid separation in the kinds of industries. It has a unique design that minimizes moisture, impurity and crystal breakage in discharged cake, can perform feeding, filtration, washing and discharging in sequence at their full-speed running.
Industrial Pusher Centrifuge (HR 500)
HR Two-Stage Pusher Centrifuge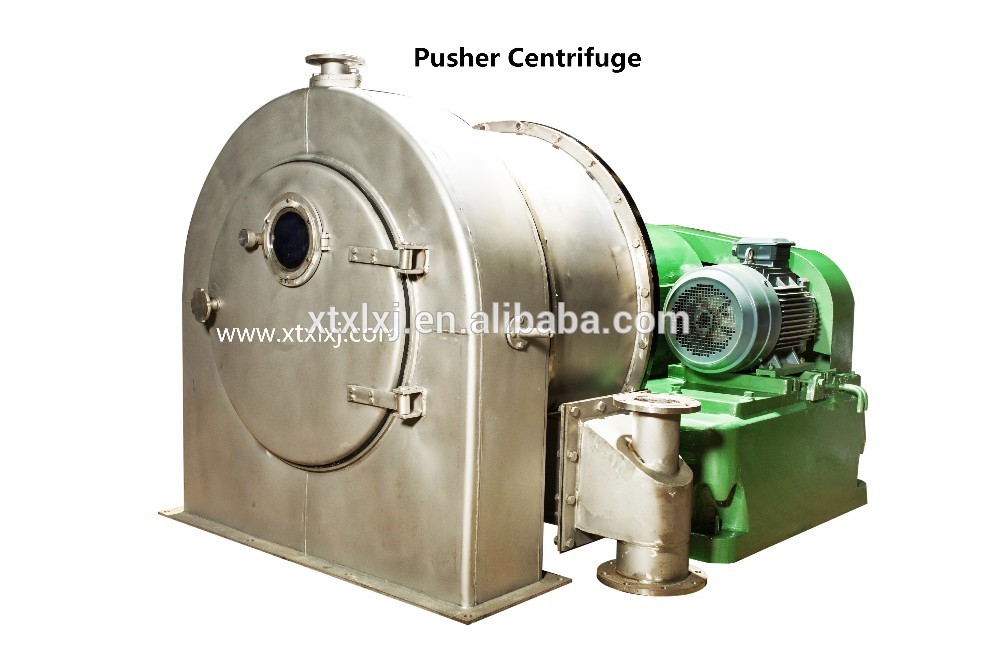 Introduction and Working Principle
Working principle:The main motor drives the inner and outer baskets to rotate at the full speed, then feed the material through the feed pipe. Under the centrifugal force, the liquid is discharged out of the basket through filter screen and the holes of the basket, then out of the machine through the liquid discharge pipe, while the solid deposits in the basket as a ring layer of cake.
Features
Continuous operation with large capacity
Ideal washing effect
Low moisture content of cake
Less solid content loss and crystal broken
Suitable for abrasion filtering cake
Technical parameter

Application
Apply to separate the suspended liquid , the solid can be powder, granular, crystal and fibrous. and the diameter of the solid larger than 0.05 mm. with the concentration rate of over 40%.like chemical,fertilizer,alkali,salt and other industries.
Typical separation
1. Chemical Industry: gypsum, thiamin, salt, ferric sulfate, boric acid, borax, rubber additive, dye, and other chemical products.
2. Food industry: kitchen salt, sodium glutamate, food additive, Chemical seasonings, sugar
3. Pharmaceutical:Extraction of vitamin, biotic, traditional Chinese medicine and other various drugs
4. Mine and Metallurgy: Copper, zinc, minerals, and metal refining
5. Environmental Protection: with acid discharge, pure water sludge and sewage sludge, etc