China Starch Scraper Centrifuge
ZHONGYI

Hunan, China

within 30 days against the payment in advance

20 Set/Sets per Month
Starch Scraper Centrifuge is applicable for two-phase (solid-liquid) separation in the chemical, pharmaceutical, environmental protection, mining, food and other industries.
Product Description
Automatic Starch Dewatering Machine
Automatic Starch Separation/Cleaning/ Dewatering Machine
GK1250 Horizontal Peeler Centrifuge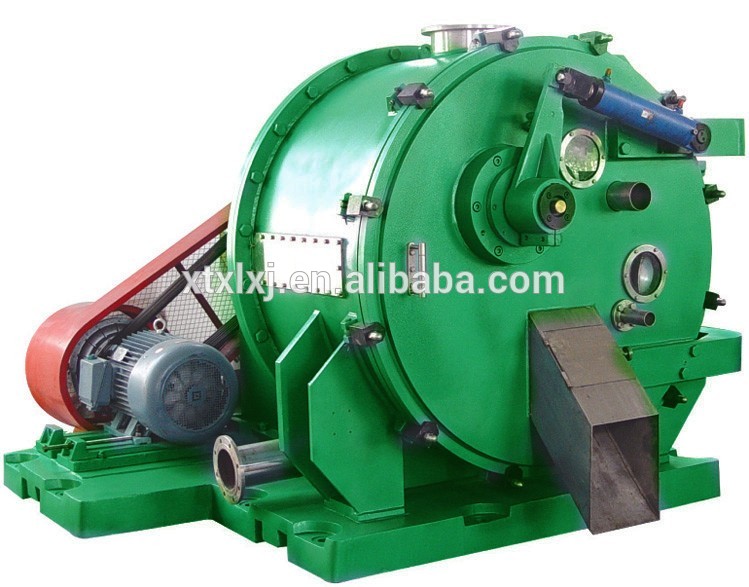 Working Principle For Automatic Starch Dewatering Machine
Introduction
GK Horizontal Peeler Centrifuge is mainly apply to separate /clean /dewater kinds of material ,especially kinds of powder,like starch, soda ash, NaCl, and other chemical/food/industrial materials.
GK Series are centrifuges with peeler batch discharge and full automatic/manual operation at full speed.. they are capable of full automatic (PC controller) or manual operation according to the requirement. Matching electric and hydraulic controller , it can control all the process of the feeding ,separating ,washing and discharge at full speed
Principle
The motor drives the bowl at full speed, and the materials to be separated fed into and distributed on the wall of the bowl with the aid of the tine. Under the action of centrifugal force, the liquid phase through out the filter bag and the bowl, move out via the unloading pipe. With the increase of filter cake, the tine relatively is rotating, when tine rotate reaches at a certain Angle, touch the limit switch and cut off time relay, the feed valve closed, stop feeding. And washing valve automatically open at the same time, washing liquid by washing tube spray on the filter cake, after the filter cake washing adequately, close the washing valve, while the machine is continuously dehydrating and drying, and then the scraper rotatably scrape and discharge the cakes, then move out the machine by gravity.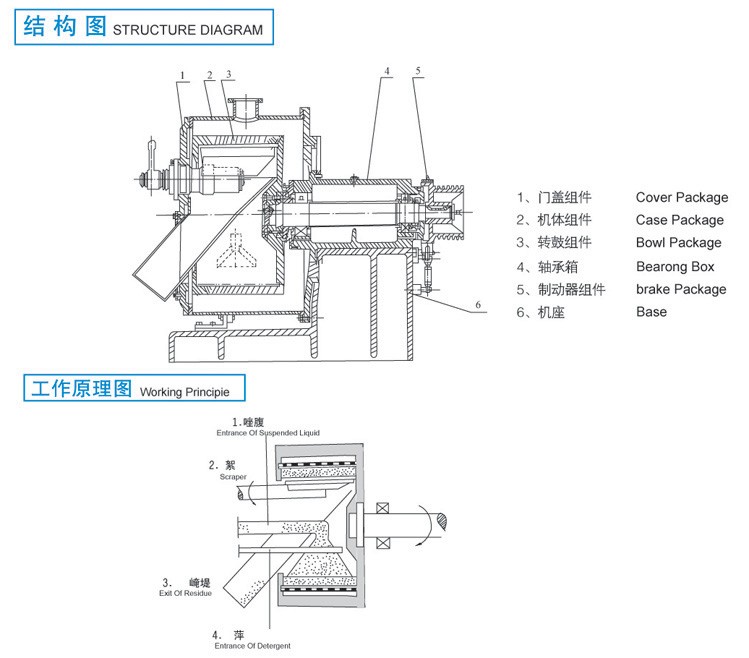 Typical Production
Ammonium sulfate, sodium sulfate, nickel sulfate, ferrous sulfate, anthracene, polyethylene, polystyrene, polyvinyl chloride, urea, caustic soda, salt, boric acid, ammonium chloride, sodium carbonate, sodium pentachlorophenol, bleaching powder,
Corn starch, cassava starch, sweet potato starch, potato starch, banana taro starch, the kudzu root starch, wheat starch
Features
GK series are capable of full automatic or manual operation of feeding, separating, washing and discharge at full speed.
1. compact structure,
2. minute extension
3. Automatic/manual patch operation
4. Stepless speed
5. High load capacity
6. Wide range of application
7. Low moisture content in the filter cake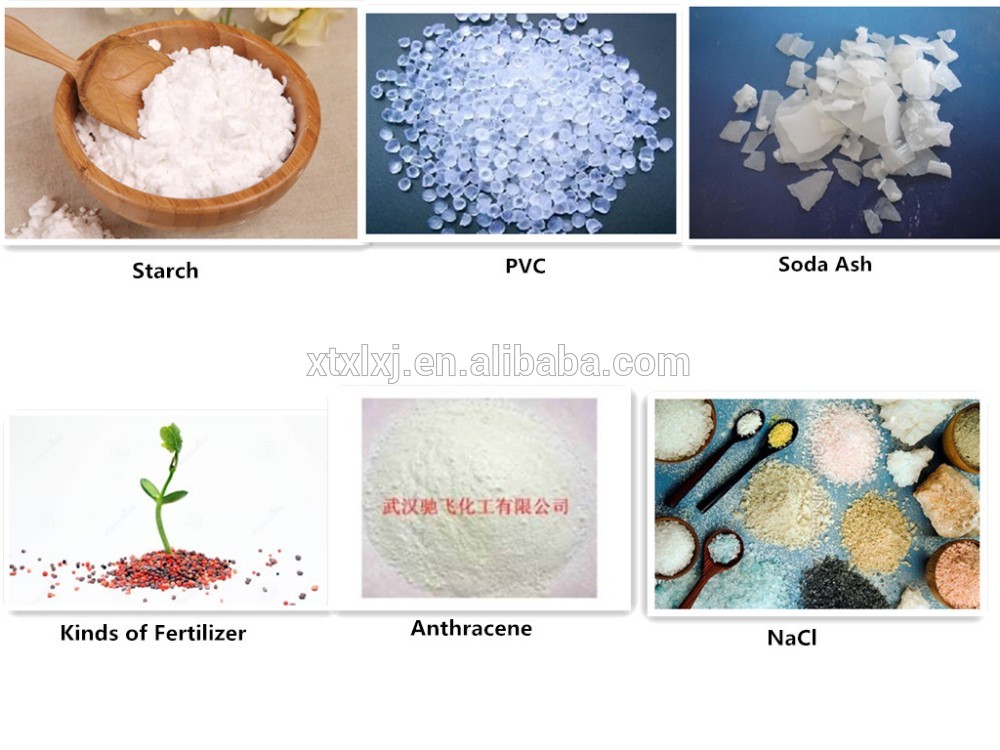 Working Condition
1. The materials to be separated are suspend liquid ,solid-liquid and so on .
2. There are density contract of the suspended liquid
3. the concentration of the solid phase >20%, while that of the liquid phase < 10-2Pa.s . and the diameter of the solid phase > 0.1mm
4. Working temperature: no more than 100 c
Optional Parameter
1. Material contactedthe liquid to be separated : Carbon steel(G), Corrosion resisting steel (N), Titanium(I), Metal coat (J), Rubber ,and so on
2. Motor Type: General motor or explosion proof motor
3. Speed controller: AC frequency , electromagetric or mechanical belt
4. The range of speed difference: 10 r/m - 50 r/m
5. Discharge: Mother liquid and washing solution can be discharged mixed or separately
6. All the machine made match the GMP standard
7. Design and produce all customized
Techincal Parameter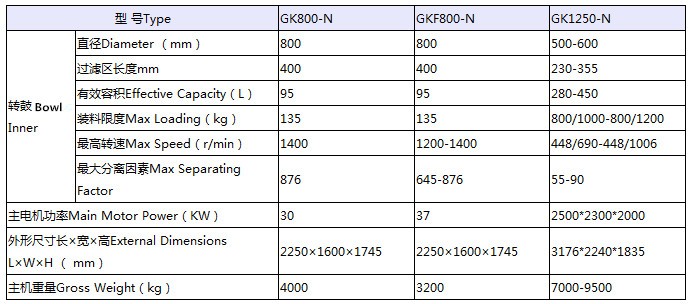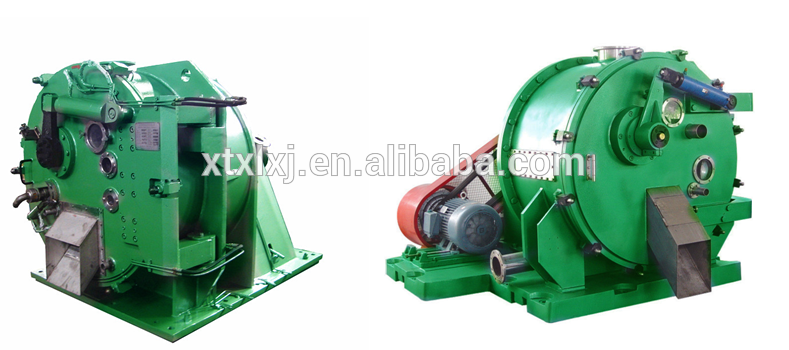 GK Horizontal Peeler Centrifuge especially apply to separate of kinds of power material , like starch. soda ash, polyvinyl chloride power and so on