Batch Operation separation centrifuge
ZHONGYI

Hunan, China

within 30 days against the payment in advance

20 Set/Sets per Month
XR Series is kind of manual bottom discharge batch operation filter centrifuge widely used to separate kinds of solid liquid suspension (solid can be crystal, powder)like calcium carbonate, calcium phosphate ,it especially applies to dehydrate potassium chloride
XR Series Batch Operation separation centrifuge for sale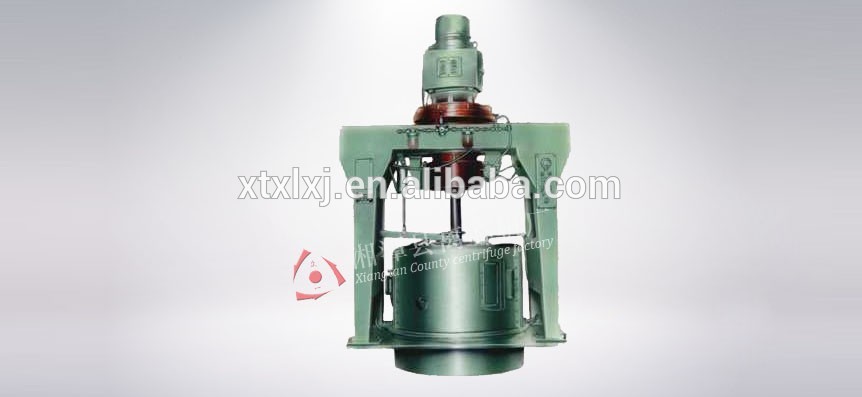 Working Principle
When the basket is spinning at middel speed, the suspension to be separated fed into and distributed on the inner war of the basket. Under the action of the strong centrifugal force, the liquid phase goes through the basket and moves out of the machine, while the solid phase stay on the inner war of the basket and become the solid cakes, when the cakes reach the overflow level, Stop feeding and continuously speed up the basket at hight speed, after the dehydration ,Stop the machine working, the soid cakes stuffed by manual are discharged at the bottom of the basket where is discharging port. If the solid cakes need wasing , please do not turn off the machine , and the water will be automatic enters into the basket and wash the cakes, and continuous dehydration, then to the next batch.
Technical parameter: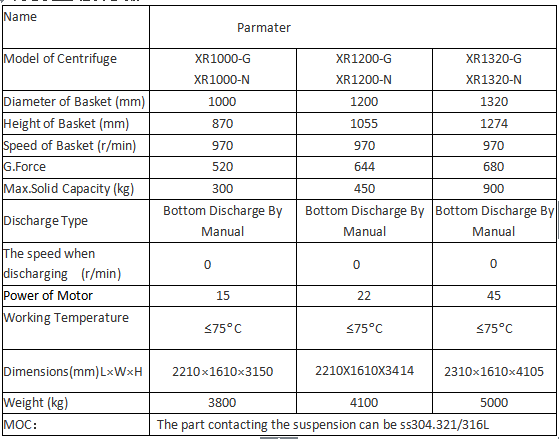 Working Condition
1. The materials to be separated are suspend liquid ,solid-liquid and so on .
2. There are density contract of the suspended liquid
3. the concentration of the solid phase from 20% to60% . and the diameter of the solid phase > 0.05mm
4. Working temperature: no more than 110 c
Optional Parameter
1 Material contacting the liquid to be separated : Carbon steel(G), Corrosion resisting steel (N)ss304/ss316/ss316L, Titanium(I), Metal coat (J), Rubber ,and so on