Automatic Batch Operation Bottom Discharge Basket Centrifuge
zhongyi

Hunan, China

within 30 days against the payment in advance

20 Set/Sets per Month
Automatic Batch Operation Bottom Discharge Basket Centrifuge adopt PLC control ,the procedure setting in advance, automatic completing these operation : early feeding , filtering/dewatering/separaion , washing , refiltering , discharging .
China PGZ Automatic Bath Operation Bottom Discharge Basket Centrifuge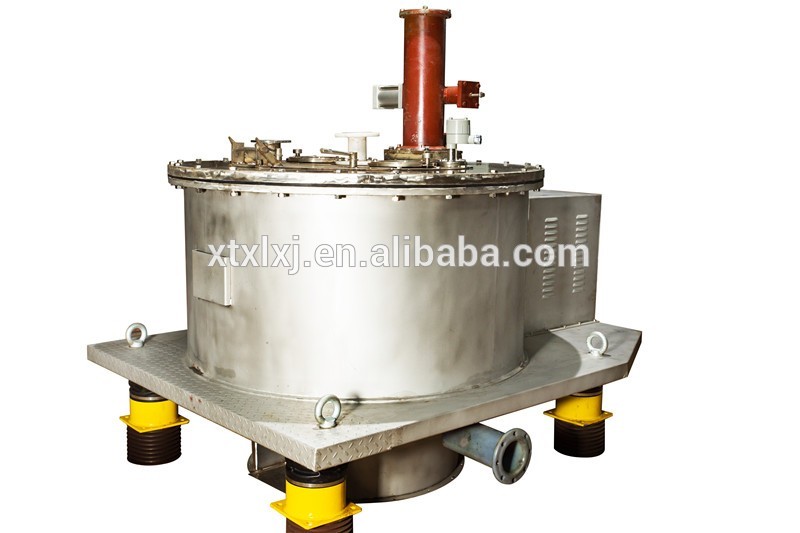 Application 0f PGZ Automatic Batch Operation Bottom Discharge Basket Centrifuge
It applies to separate/dehydrate solid liquid suspension ,the solid can be granular ,powder, crystal and so on. and the solid particle > 0.005 mm, and concentration between 3%-50% , and feeding capacity 50kg- 5 t/h.
PGZ Automatic Batch Operation Bottom Discharge Basket Centrifuge
Main features:
1. PLC control, full automatic operation
2. AC motor controll the speed stepless, stable starting, adjustable separation factor.
3. The braking energy, non-contact braking mode, no friction dust pollution.
4. Fully sealed structure, sealers adopt silicon rubber, or fluorine rubber, centrifuge lumen nitrogen protection, which can realize airtight explosion-proof requirements.
5. Reasonable structure design, online cleaning system (sprinkler system), to ensure the cleanliness requirements, and meet with the GMP
6. Automatic movement components adopt pneumatic system, make the machine more clean.
7. Optional gas scraper to control the discharge with no residual filter cake in the drum.
8. No base installation, simple structure, beautiful appearance, convenient cleaning.
9. Safety protection: speed detection, vibration protection, open cover protection, motor overload and overheat protection, scraper rotating, lifting machinery electricity gas dual control, the linkage locking of scraper and the basket
Technical parameter of PGZ Automatic Batch Operation Bottom Discharge Basket Centrifuge
NO.

Model

PGZ800-N

PGZ1000-N

PGZ1250-N

PGZ1500-N

1

Dia of Basket (mm)

800

1000

1250

1500

2

Length of Basket

400

500

630

750

3

Working Volume(L)

100

200

400

750

4

Max Solid Loading Capacity(kg)

125

250

500

1000

5

Speed of Basket (r/min)

1500

1200

1000

850

6

Max. G. Force

1008

806

700

647

7

Net Weithgt(kg)

2000

3000

4600

9000

8

Dimensions

1800x1280x1800

2000x1500x2150

2260x1800x2550

3000×2300×2650

9

Power of Main Motor(KW)

7.5/11

11/15

22

30

10

Solid Water Conten After Separation

2%-50% depends on the solid concentration
Typical Application:
Apply to separate the solid liquid suspension , the solid can be powder, granular, crystal and fibrous. and the diameter of the solid larger than 0.01 mm and the concentration are between 3%-50%.
1.Chemical Industry: gypsum, thiamin, salt, ferric sulfate, boric acid, borax, rubber additive, dye, and other chemical products.
2.Food industry: kitchen salt, sodium glutamate, food additive, Chemical seasonings, sugar
3.Pharmaceutical:Extraction of vitamin, biotic, traditional Chinese medicine and other various drugs
4.Mine and Metallurgy: Copper, zinc, minerals, and metal refining
5. Environmental Protection: with acid discharge, pure water sludge and sewage sludge, etc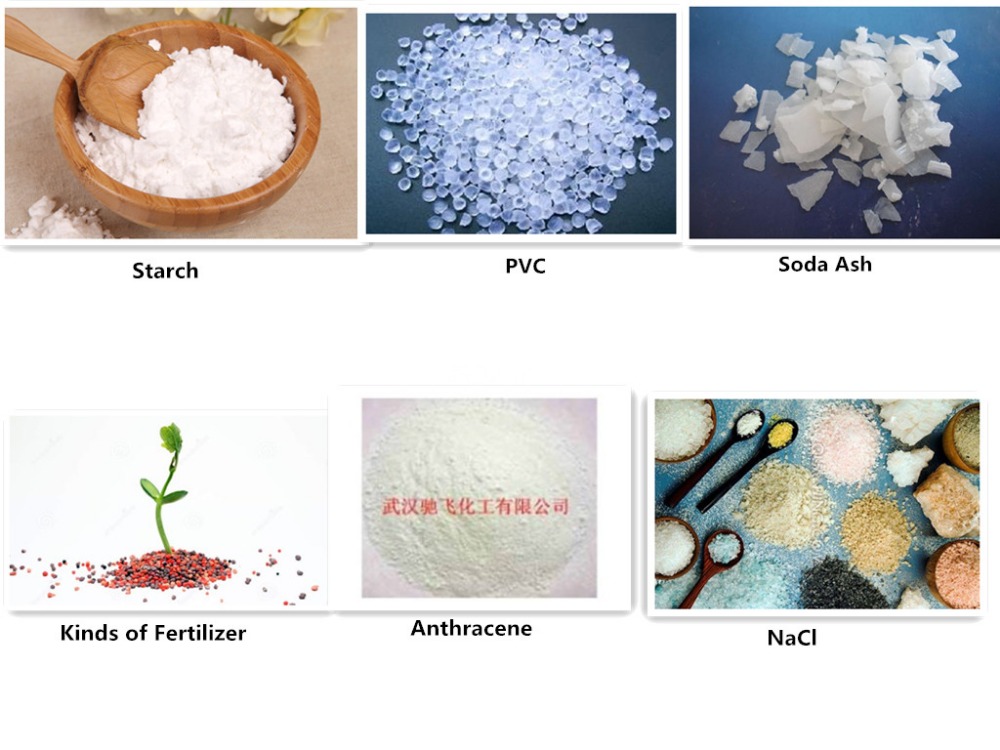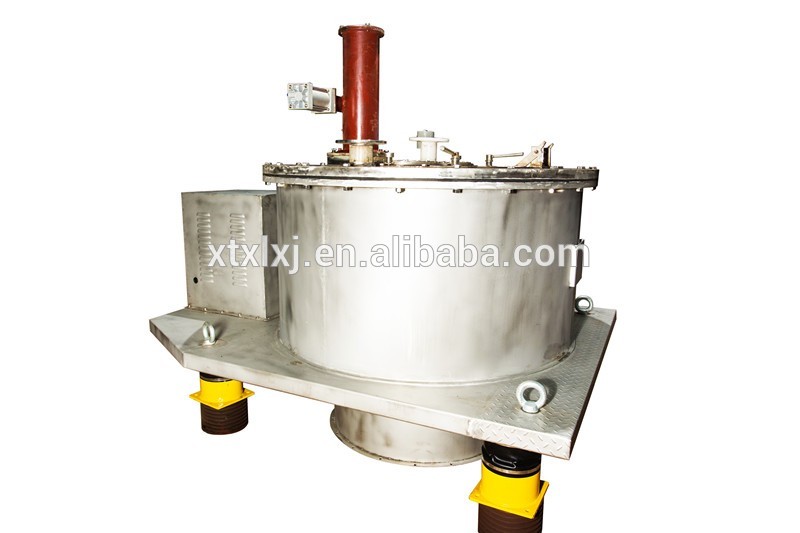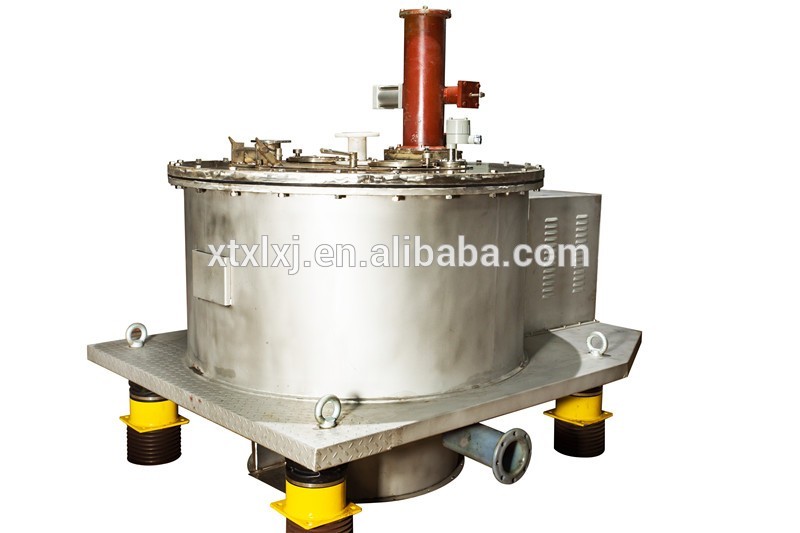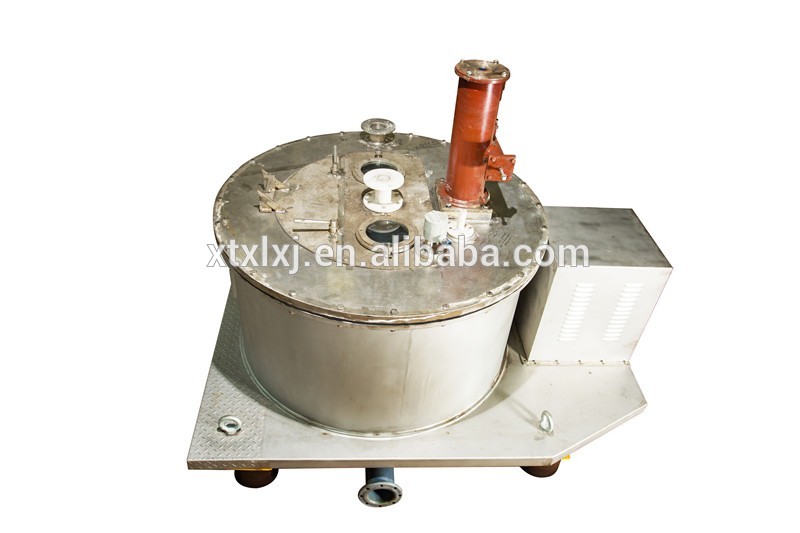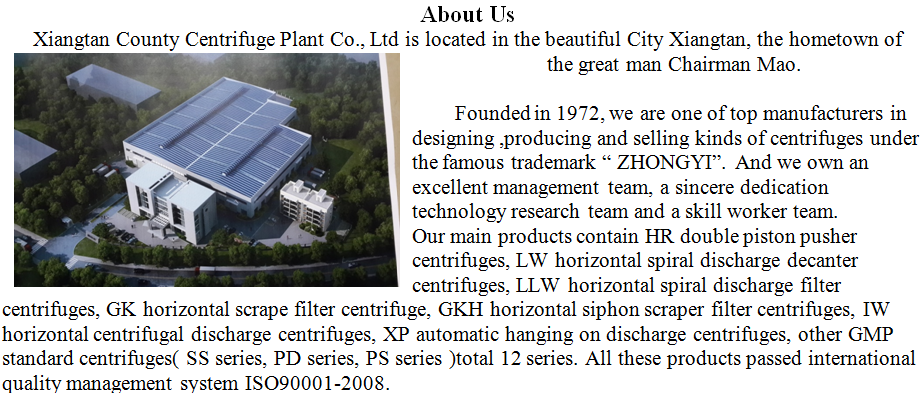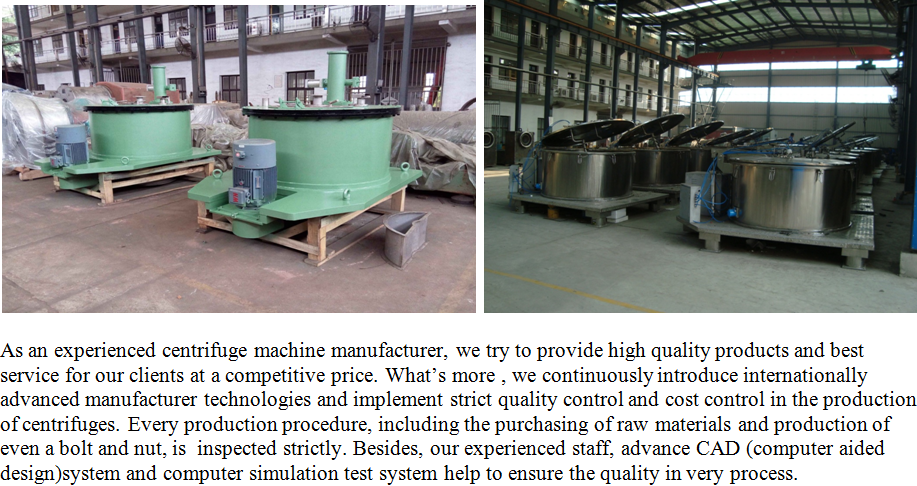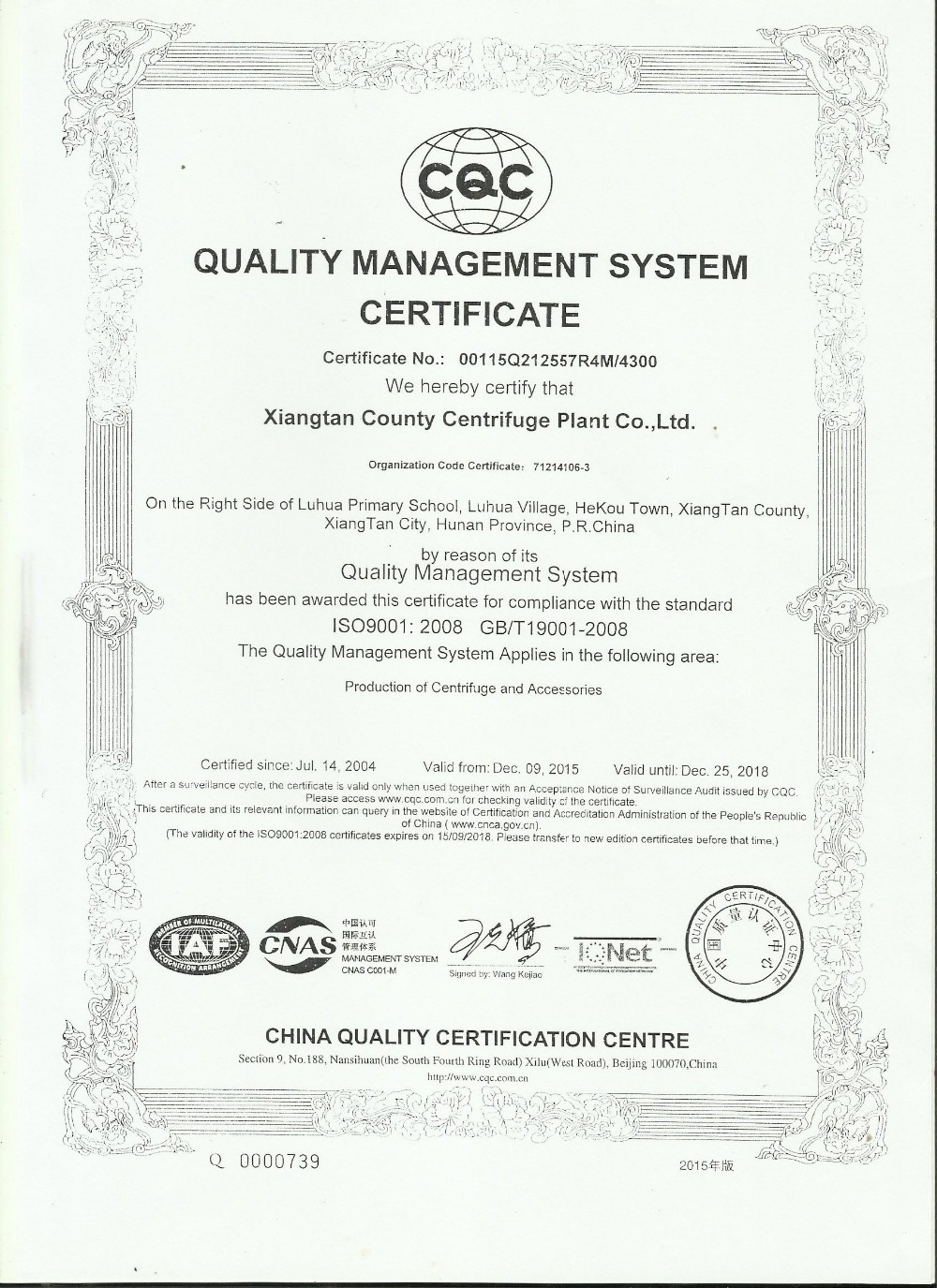 1.What's the application of centrifuge?
This machine is widely used in many fields such as environmental, pharmaceutical food, chemical industry for separation/washing/dewatering . It can separate almost all liquid and solid with proper feature.
2.How to clean the machine?
The machine has self-cleaning function. When the processing is finished, you just put one button and the machine will do the cleaning automatically.
3. How to choose the machine material?
For the material, we have stainless steel 304, 316 and 321 for your option. Generally SS304 is used. If there's suspension with corrosion, then SS 321 /316 or Ti is needed.
4.What's the capacity of the machine?
Firstly we have different model with different capacity for this machine.
Secondly, the capacity will be customized according to concentration of the suspension. Higher the concentration, lower the capacity.
5. How is the processing result?
The finished cake moisture and solid lost rate is based on the material feature. And different machine just brings different processing capacity. Also we can offer testing service to get realistic results.